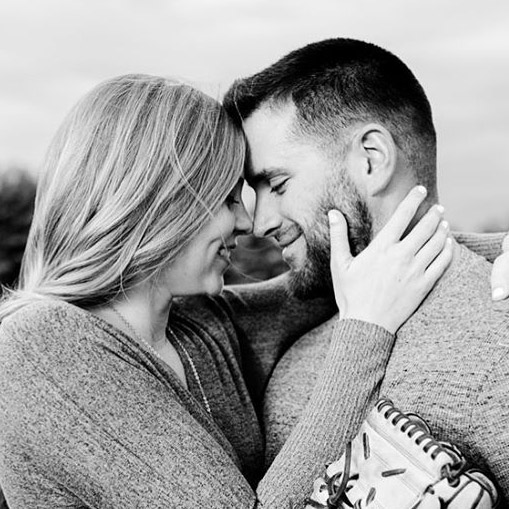 Scott Runyan & Taylor Roach
KCC Love Story
Year of Graduation:
2015
How did you meet?
We met at KCC our freshman year. Scott played baseball and Taylor played women's basketball for the Cavaliers. Second semester, we were in the same science class when Taylor reached out to Scott. We began talking & studying with each other and have been together ever since!
What did the two of you do for fun/dates?
Our favorite date spot was Burgers & Beer in Kankakee. It had just opened our freshman year & was our go-to place to eat (and still is)! Most of our time outside of class was spent playing our sport & attending each others' games. We also spent time hanging out with friends & teammates.
---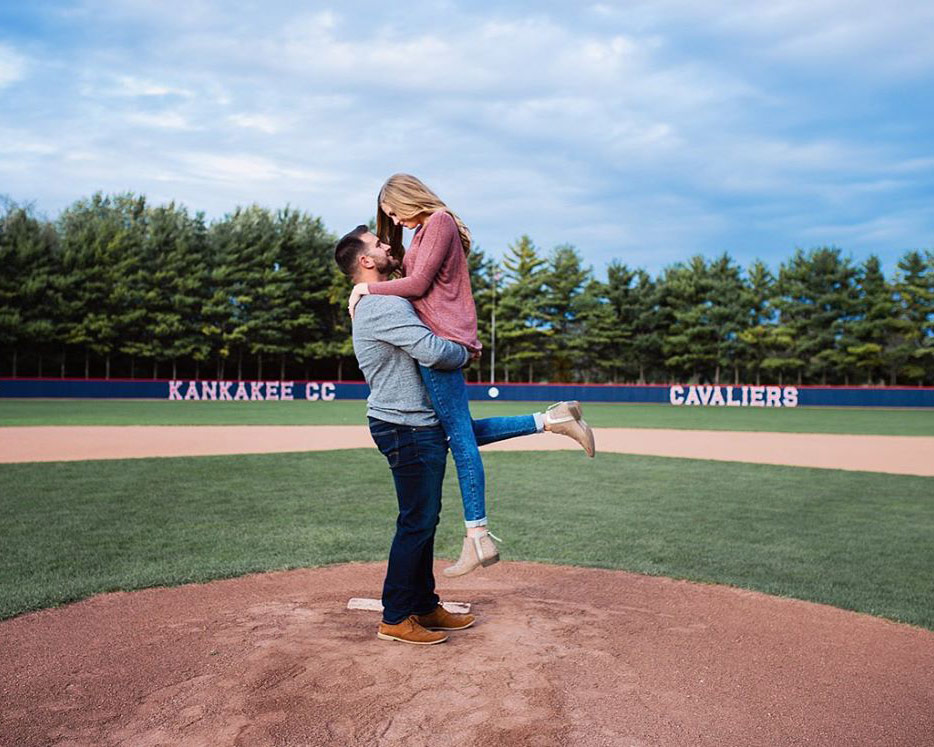 ---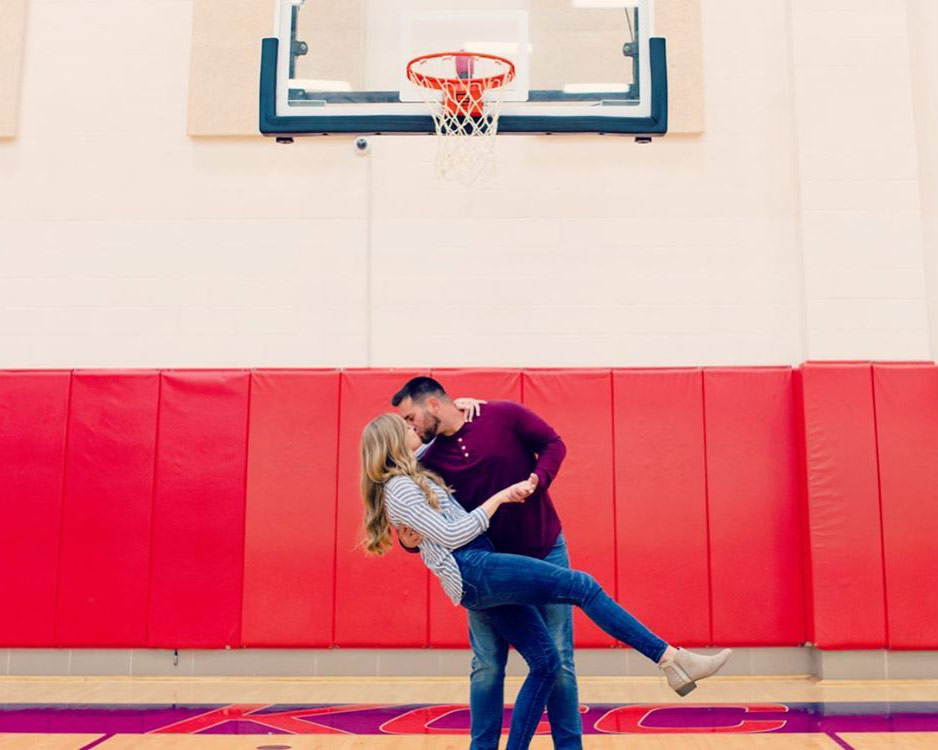 How many years have you been together?
Six years.
When are you planning to get married?
July 18, 2020.
Are there any special memories you have of being at KCC?
Our favorite memory was the opportunity for us to both play the sports we love for such a great athletic program & college. We (met) many amazing people during our time at KCC. Most of all, we are grateful that KCC brought us together. Recently, we enjoyed taking our engagement pictures on the beautiful KCC campus to capture where our love & memories started.
After KCC:
After graduating from KCC, we both continued our education & graduated from Eastern Illinois University. Upon graduation, Taylor came back to KCC for the Physical Therapist Assistant Program. Currently, we reside in Champaign. Scott is Athletic Director at St. Matthew Middle School and also coaches middle school & high school baseball. Taylor is a PTA at Gibson Area Hospital in Paxton.
---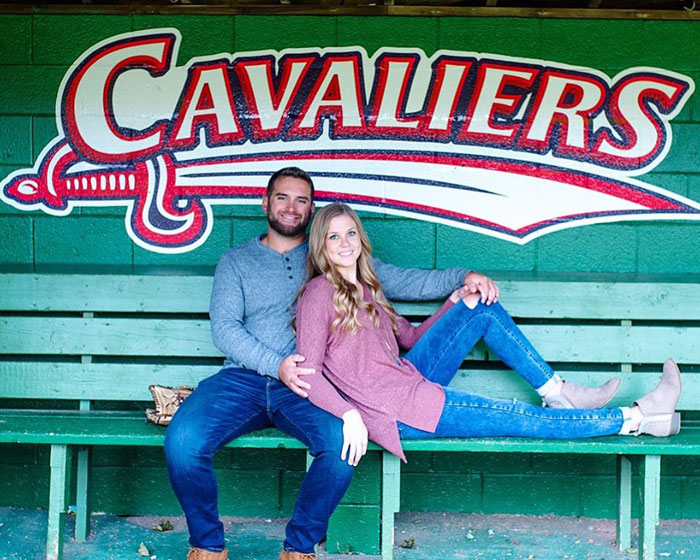 ---
Lydia Salgado
Associate in Applied Science - Respiratory Therapy, 2019
What was the path that led you to KCC?
I joined the Navy directly after graduating from Kankakee High School in 2010. I had a very active military career requiring me to move multiple times. I was stationed in numerous locations across the US and in Yokosuka Naval Base in Japan. In Japan, I met my husband Cesar Salgado, who was also in the US Navy. We were engaged after a few months and had two children by July of 2015 Just a few months after Cesar was honorably discharged, we learned he had kidney cancer at the age of 25. Now cancer free we continue to closely monitor his health. I moved to the active reserves as a Navy corpsman in 2016. Returning to Illinois in 2017 after full-time military life posed some challenges, but I was determined to meet them head on. I began working on the prerequisites for the Respiratory Therapist program at KCC. My husband also attended KCC at that time. I completed my associate in applied sciences with honors in the fall of 2019, just weeks after giving birth to my third child.
Was KCC a good choice for you?
KCC was a wonderful choice for me. While I had the GI bill and did not need to worry about the financial side, the added services KCC provided me were very helpful. The veteran's assistance team at KCC is amazing. They made the process of using my VA benefit easy. After six years on active duty, going back to college is like starting all over again and they made the process as easy as possible as I transitioned into civilian life.
Has your KCC degree helped you achieve your career goals?
Once I received my degree, after two short years, I had a job lined up prior to graduation, pending my board exam. As a respiratory therapist, I was able to start out in the medical field making a very livable wage with room for growth. This allowed me to work through a global pandemic and a hurricane while so many other fields were laid off. I served on the "Hurricane Team A," at Gulf Coast Medical Center in Fort Myers during Hurricane Ian in September of 2022. The hurricane displaced my family for nearly a week, but I was able to continue to serve on the response team and aid my community. This is a very rewarding career with excellent opportunities and job security.
My community college education has made me who I am today. It was a great way to get started in a fantastic field that has provided me growth and opportunity.
Taylor Bradley
Associate in Applied Science, 2018
Taylor Bradley has always been fascinated with law and politics, with helping others understand their rights. So, it's no surprise that she graduated KCC with an associate in applied science degree in Paralegal/Legal Assistant Studies. But it was far from easy.
"I dropped out of high school at 15 and got my GED after I found out I was pregnant. But my son was my motivator for sure. I felt like I couldn't make him go to school unless I went back." Taylor applied to KCC and received the Foundation Scholarship.
"I was really bad at the program at first." Taylor remembers crying in her advisor's office. "Dr. Condon told me we were going to get through it together. She asked how I learned best. I'm a very visual learner so she adapted her teaching style to accommodate me." Taylor's grades shot up and she branched out in her legal studies, even taking a course that offered unique projects each semester.
"Dr. Kramer and Dr. Condon knew I was bilingual so they assigned me with two other students to the Democrat Commitment project to create self-represented litigant user guides and instruction videos. I used three different translation softwares, the court house interpretive staff, and my own knowledge to translate the guides into Spanish. I tested them on my Spanish-speaking friends and they worked."
In May, Taylor and her two student partners were awarded the Bernie Ronan Award for Student Action. "The court house didn't have anything like this before our project so our work is really meeting a need."
Taylor's hard work paid off. After graduating, she completed a paid internship at Kankakee County Courthouse. And today, she works as a Paralegal and Office Manager at Alan F. Smietanksi Law Firm in Kankakee, Illinois. "There's so much more to know. I think I'll go back and continue taking classes."
When asked what advice she would give others, Taylor says, "It's worth the struggle. If I didn't have my son, if I didn't have to struggle through classes, I don't think I'd be where I am today. I'm now very appreciative of everything because I started with nothing. I had to work for it all and the things I learned along the way are priceless."
Mike Neumann
Associate in Applied Science, 2016
A KCC business graduate, Mike never planned on owning his own business but today, he is the proud owner of Fit Body U, a thriving gym in Bourbonnais, IL.
"I was backed into a corner," Mike says. Before starting off on his own, he worked as a part-time independent contract trainer at a gym when management cut the trainers' profit margin drastically. Suddenly, Mike found himself considering a potential career change.
Then he heard about a gym for sale. It was a good deal and with a friend investor, Mike collected the money for the purchase. "It just seemed like perfect timing. But I was flying by the seat of my pants."
Within record time, Mike's new gym was up and running. "I didn't even have enough equipment for a full gym, but it was enough to get started." As Fit Body U started making profits, Mike poured the money back into the gym for more equipment.
"I've learned to appreciate the idea of small beginnings. Some people want to start big and if they're not sure about what they're doing, they'll fall on their face. That's why I like starting small, and making corrections as I go."
After working as an employee for 11 businesses, Mike enjoys putting his own ideas into practice. "If you work for someone else, you have to work for their vision. But now I can practice my own vision and see how the community responds to my ideas."
Entrepreneurs are known for taking risks, but the risks have only proven to help Mike's business. "There were times in my personal life that I didn't take the risk and I missed out. But stepping out is always more fun. So now with the gym, I try to always take the risk."
In the last two years, the gym has doubled from 450 to 810 active members. This coming summer, Mike is planning a big celebration for Fit Body U's five-year anniversary.
"If you're passionate about a business idea," Mike says, "if that's what you think about when you're by yourself, then that's what you should do. People around you will be inspired by your passion and things will come together. If you have consistency and passion, and if you're always a student of the game, then it will happen."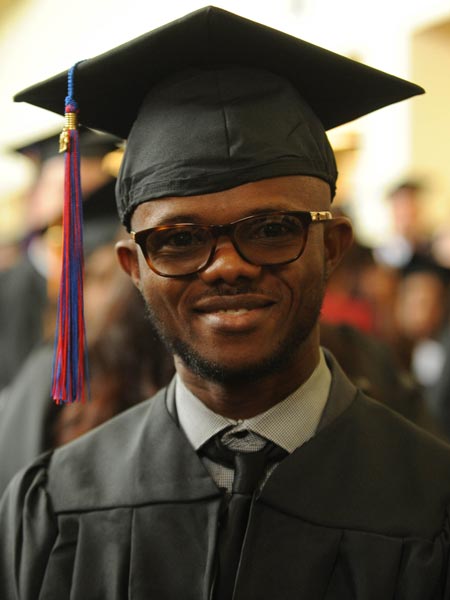 Jacob Jeje
Associate in General Studies & Occupational Certificate, 2016
Jacob relocated his family from Nigeria to New York for better opportunities and eventually, they settled in Illinois to be close to relatives. "I was working some crappy jobs, which I did not like. I thought about the American dream, that I could decide what I wanted to do, go to college, and get the training I needed to sustain myself and my family."
Jacob decided to take the leap and enrolled in classes at KCC. At first, he tried studying to be a nurse but it didn't turn out the way he hoped. "I talked with my academic advisor and she encouraged me to focus on the general education courses. Not only did her advice help me stay in school but through those courses, I found my career path." Jacob switched to KCC's Manufacturing Technology program, and then the real challenge began.
In between a full course load, a fulltime manufacturing job, and another part time job, Jacob was also a husband and a father. "It was rough, really rough. I got about 4.5 hours of sleep every day."
Jacob didn't always get the perfect grades he wanted because he had to balance his many responsibilities. But he wasn't alone. "My wife has always been super supportive. There were days when I wanted to drop some classes and she would say, 'Just keep going, just keep going.'" And he did, earning a spot on the honors list in 2016.
Jacob completed the KCC associates program and transferred to Governors State University, becoming the first person in his family to graduate with a bachelor's degree. He now works at Pactiv, a manufacturing company. The short commute gives him more time to be with his three kids. He's currently taking classes for a Master's degree in Supply Chain Management. "I'm taking it slow this time, and thinking of my long-term goal."
As he looks back over an intense journey, Jacob says, "If you don't have a bigger drive beyond just going to school, you'll be tempted to drop out. Passion keeps you moving but without a long-term goal, you'll end up with a degree you can't get a job with. It's about balancing all three: passion, drive, and a long-term goal."
Maureen Powell
Associate Degree, 1985
What is your favorite memory of KCC?
Labs for Microbiology and Anatomy and Physiology classes. Playing euchre in the student center.
Did you have a favorite instructor at KCC?
Not an instructor, but a guidance counselor: Don James.
How did KCC help pave the path to where you are today?
I am very fortunate to have had access to Kankakee Community College. When I was in high school, I applied to, visited, and was accepted by four-year universities. When I graduated, though, I wasn't ready to go away to school. Fortunately, KCC was there. At the time, not many people I knew were going to KCC. That turned out to be a good thing, though, because I met new people and made new friends. I was also able to live at home and work while attending school. Thanks to the help from a wonderful guidance counselor, Mr. Don James, I received a community college transfer scholarship, which provided full tuition, fees, books, and a mileage stipend to Governors State University, where I completed my bachelor's degree.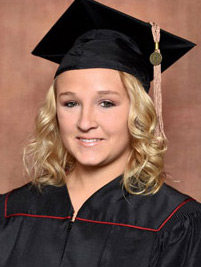 Kaylynn Cole
Associate Degree, 2014
What is your favorite memory of KCC?
My favorite memory at KCC would be working with Laura Gardner on different campus projects. Thanks to her, I was able to become more involved with campus life and all the activities offered. I was on the Students' Activities Board and served as secretary for one semester. I also was involved with TRIO and worked with Kim and Delithia. They helped me get books, were my advisors, and took me to visit many different campuses to find a place to transfer and continue my education.
Tell us about someone who made an impact?
KCC really allowed me to grow and helped point me toward my current success. I was a student worker for one year in the KCC Foundation office. I was an office assistant. I learned so much from Foundation Director Kelly Myers that has really helped me in the professional world today. I assisted with coordinating events and with scholarship donor relations. Not only did I learn the basics of working in an office setting, I also grew as a professional. I am eternally grateful for this experience, because having this on my resume helped me achieve my current position as a Sporting Consultant with Nestle Purina.
How did KCC pave the path to where you are today?
I graduated from Kankakee Community College in May 2014 with an Associates in Arts Degree. From there, I transferred to Indiana University Southeast in New Albany, Indiana. I graduate this May with a bachelor's degree in business with a concentration in marketing, a minor in public relations, and a certification in sales. While finishing my degrees, I was married and had my son, Tucker.
I am proud of my decision to attend KCC. Not only for the financial and close-to-home benefits of attending a community college but also because of the doors it opened for me. The experiences I gained at KCC and the people I met along the way continue to benefit me and keep me on a path to success. It seems after making the right decision to attend KCC there has been an unending chain of positive events in my career. Since I am the first in my family to receive a college degree, I had no clue where to start to continue my education. Thanks to KCC and its wonderful staff, I was able to fulfill a dream and brighten my future.
Eric Cavender
Associate Degree, 2010
What is your favorite memory of KCC?
This may sound weird, but for somebody who has studied mortuary science and works for the coroner's office I suppose it's perfectly acceptable… my favorite memory at KCC was working with the cadavers during human anatomy. Many students feared this day in human anatomy lab, but not me! I think I even showed up early out of pure excitement to finally get the chance to put aside a textbook and get a firsthand opportunity to learn from a cadaver. I can still recall the reactions of others and the voice of Professor Bob Ling as he went over the anatomy of the cadaver we studied
Tell us about someone who made an impact.
I really learned to appreciate and respect Professor Bob Ling during my two-year stint at KCC. He taught numerous classes I was enrolled in and I always looked forward to his classes and laboratory sessions. His classes were challenging, and he demanded a lot from every student, but if you worked hard and paid attention during his lectures you were destined for success.
How did KCC pave the path to where you are today?
As a young adult, deciding on what college to attend is probably one of the most difficult–and yet critical–decisions a person will make in their life. Some choose Ivy League schools, others choose large state universities and then there are those such as myself and millions of others who decide a local community college is the best fit for them. I frequently tell others that starting my secondary education at KCC was one of the best decisions I have ever made and to not get caught up in the hype and luxuries other larger schools can provide.
KCC was the stepping stone that allowed me to enroll in the accelerated mortuary science program at Carl Sandburg College in Galesburg, Illinois. By also going to KCC, I was able to continue to live at home, work two part-time jobs and save thousands of dollars in potential student loan debt. KCC gave me the financial freedom that millions of other college students can only dream of.
In addition to the above, KCC and the dedicated staff provided me with the knowledge and tools necessary to be successful in the future. The KCC motto is "Start Here, Finish Anywhere" and, I promise, if you start here you can finish anywhere.
Andy Wheeler
Associate Degree, 1996
At age 25, Andrew Wheeler came to KCC to get a fresh start professionally. As an adult student, Wheeler wanted to complete his associate degree while working and building a foundation for further education.
"Originally, I thought that I would be teaching history at some small university nestled in the mountains somewhere," he said. "But sometimes life takes over and you go down roads that you never thought you would travel. I never thought I would work in the media, but there I was in 2003, working for years as an editor at The Daily Journal, running a Business-to-Business publication and serving on their editorial board."
Today, Wheeler has a deep investment in the community he grew up in. He oversees marketing at a large global company, and serves as chairman of the Kankakee County Board.  
After completing a degree at KCC, Wheeler finished bachelor's and master's degrees focusing on journalism and the marketing side of the newspaper business. Along the way, he realized it was not going to lead to the career he had envisioned. 
Since 2014, Wheeler has been vice president of marketing for Van Drunen Farms and its sister company, FutureCueticals, headquartered in Momence. These companies are industry leaders in the agricultural growth, research and development and manufacture of fruit, vegetable, and grain-based products for the functional food, cosmetics, and dietary supplement markets.
"I completed my degrees just in time for that entire business model to crash," he said. "That led me to Van Drunen Farms. I guess the common thread is that if you can communicate, you will always have a path available for you.
"I am able to utilize the creative and strategic side for both marketing and as part of the leadership team for the company. I really enjoy the data side of business including finance, budgeting, manufacturing and, oddly enough, I find the legal side fascinating." 
Wheeler said an opportunity area for current students is the area of food safety auditing and management, with job opening because of changes to the law.
"The Food Safety Modernization Act (FSMA) has changed how those who manufacture have to get deeply involved in not only their own operations, but also their supplier's operations. There is a need for analytical chemists as well. We are also in need of STEM skillsets and degreed office personnel, like accountants, comptrollers, finance people, and technical-minded salespeople."
At KCC, Wheeler learned how to juggle being a student and full-time worker, which provided the discipline he needed to move forward professionally. 
"KCC is a great place to sharpen not only your mental skills, but also bolster your internal drive to succeed in whatever way that the word 'success' means to you," he said 
As chairman of the county board, a position he was elected to in 2016, Wheeler says he enjoys fixing things, like poor finances within the county government and relationships that had become strained. He realizes that strengthening and maintaining relationships are critical skills that enable him to be successful. 
"If people don't feel like they are appreciated and have value, you will not get their best," he said. "I really don't like politicians, so I do my best not to be one. It's not about me. I am a businessman helping reshape how government operates."
Wheeler's advice to students: "Go to community college first, before you drop tens of thousands of dollars figuring out that you don't know what you want to do. Build your base, learn how to communicate professionally, and grow from there."
 
Heidi Surprenant-Pommier
Associate Degree, 1991
What was your favorite memory of KCC?
My favorite memory was the independence that I had on the campus while still being able to live at home. I remember going to classes throughout the day. Then I enjoyed working out at the fitness center, hanging out in the cafeteria with classmates, or studying independently in the library in between classes. The best part about KCC was that it allowed me to stay at home while getting a quality education—taking the general education classes I needed for college while paying an affordable price. I also liked the fact that I was able to attend with many of my classmates from my high school (Kankakee High School). There was a large number of students from other local high schools that attended KCC that I was able to meet, bond with, and become good friends with as well.
How did KCC pave the path to where you are today?
KCC gave me a love for education. I went on to finish my college education at Olivet Nazarene University where I initially earned a bachelor's degree in dietetics. After working in the public health sector in nutrition, I realized that I loved learning new things and teaching them to others. I then went on to earn a master's degree in education at Olivet and this is my 12th year teaching in Kankakee School District. I appreciate my experiences at KCC and share them with my students so that they understand KCC is a quality and affordable option to begin their college career while they are still trying to figure out what they want to go to college for.